News:
Saturday December 5, 2015
10:00pm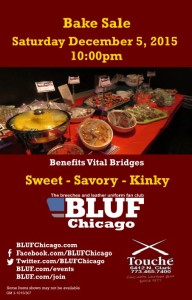 Featuring sweet, savory and kinky tasty items.
Benefits Vital Bridges
Begins 10:00 pm. at Touche
Saturday December 19, 2015
10:00pm – 12:00 am
Touché
We'll be meeting in the club room.
The Touché club room is dresscode enforced on BLUF night, so make sure you have your leather uniform, fabric uniform, or other Levi/Leather gear on. A bootblack and barber are on duty to help you get that high shine and look your best. We look forward to seeing you.
 Other Event Dates:
Tuesday, December 1, 2015

Team Friendly Chicago will be at Touché to observe World AIDS Day. Free HIV testing will be available courtesy of Howard Brown Health Center.
 Check back soon – new dates to be added
---
BLUFChicago is the local social club of BLUF.com an internet leather, fetish community of men who enjoy wearing leather uniforms similar to those seen in the art work of Tom of Finland and Etienne.
BLUFChicago was relaunched in 2013 with a volunteer planning team and a group of men dedicated to keeping full leather uniform fetish a regular visible and active part of the Chicago leather community.
BLUFChicago host monthly uniform parties bringing together both BLUF members and non member uniform enthusiast. These events are held on Gear Night (3rd Saturday each month) at Touché.
In addition to the monthly events BLUFChicago host quarterly gear nights around Chicago and special cigar and pipe parties throughout the year. We also support gear nights and community fundraisers hosted by other clubs and venues around the city.
BLUFChicago is proud to host and welcome our fellow BLUF brothers and leather uniform enthusiast from around the world, with the annual BLUF reception during International Mr. Leather at the end of May.
Membership in BLUF is not mandatory for our monthly socials or cigar/pipe parties, (leather or fabric uniform gear and a kinky attitude is appreciated) however, BLUF membership is free, encouraged and needed for member only events.
For more information on membership or to join click here. BLUF.com/join 
Find out about our news and upcoming events:
Sign up for the BLUFChicago events newsletter located on this page to the right.
Sign up for "BLUF local" email and get information on upcoming events from our club and other local BLUF clubs around the world – even if your not a BLUF member at: BLUF.com/local 
We hope you enjoy our website. New features will be added over time. Please have a look around and then get your leather uniform on and join us at one of our events.
If you are in need of leather check out our retailers listed in our shop tab they can help you get the right items and fit.
Our website is under construction . Please check back for the new and improved site.