BLUFChicago at Touché:
 Wear your BLUF Dress code leather, other uniforms, gear and join us as we host GEAR at Touché Chicago beginning at 10pm. Remember the Club room is Dress code only for this event. There will also be a barber and bootblack on duty. We will be meeting in the Club Room for our monthly get-together.
Other Events:
Check back for new events.
BLUFChicago at Touché: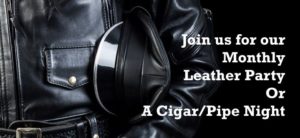 Monthly BLUF Leather Party
on GEAR Night
Third Saturday of every month
10:00pm – 1:00 am
Touché
6412 N. Clark St., Chicago IL
We'll be meeting at Touché in the dresscode enforced club room for our monthly BLUF party on GEAR night, so make sure you have your leather uniform, fabric uniform, or other Levi/Leather gear on. A bootblack is on duty to help you get that high shine and look your best.
We look forward to seeing you.
Check back soon – new dates to be added
Need leather?
Check out our retailers in our shop tab they can help you get the right items and fit.