BLUFChicago at Touché:
Join us for the official BLUF April social in Chicago. We are host for GEAR night and will be meeting in the Dress Code Enforced Club Room. Be sure to wear your leather uniforms for this night of boots, gloves and men. This will also be a great time to bring your friends who have been curious about BLUF and  if they don't have their leathers yet they can still join in with a fabric uniform/leather mix. Hope to see you there. It all starts at 10pm. A boot black and barber will be on duty.
Official BLUFChicago Events at 
International Mr. Leather 2018:
We are joining Stich – Mr.Chicago Leather 2018 in welcoming contestants and  weekend participants to Chicago at Touché . For this official BLUF welcome please wear you leather uniform, fabric uniform or  bike leather and help us give a warm fetish welcome and kick off to a great weekend of kink activities.
BLUF Chicago International Mr. Leather
Cigar Social: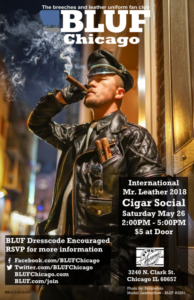 Saturday May 26, 2018
2:00pm – 5:00pm
Blue Havana
3240 N. Clark St., Chicago, Illinois 60657
Join your smoke and fetish brothers for an afternoon of cigars, pipes, gear, drinks and snacks in a private indoor smoking lounge and outdoor area (weather permitting). Enjoy special discounts 5/24-5/28 for IML attendees on select cigars, humidors, lighters, accessories and more. Your hosts for this annual event are Todd Davidson (Mr. Leather 64Ten Contest Co-Producer and Cellblock Leatherman 2006) and the men of The Breeches and Leather Uniform Fan Club of Chicago (BLUFChicago).
ENTRANCE FEE: $5 (to cover drinks, snacks and event fee).
DRESS CODE: You are welcome to wear what you want to the event, but in the celebration of the event weekend we encourage you to wear leather uniforms, motorcycle leather, fabric uniforms, bar leather rubber, sports gear, jeans and a t-shirt, etc. Just make sure it is street legal and G-rated :-).
LOCATION: Blue Havana is at 3240 N. Clark St, Chicago IL 60657. Chicago banned smoking in Jan 2008 in all indoor spaces except 5 cigar shops, and Blue Havana is the only gay-friendly place to enjoy cigars and hang with your friends (or making new ones!).
RSVP REQUIRED: Reserve your spot and preferred admission to attend this very popular event as soon as possible. Via email: send your RSVP (include your name(s) and # of guests) to: events@blufchicago.com . Via Facebook: click "Going" on the invite, but please also send an email. You can still attend without an RSVP, but space may be limited.
HOW TO GET TO THE EVENT: Getting to Blue Havana from the host hotel is an easy 20 minute ride:
CAB: From the host hotel, get to Lake Shore Drive, go North and exit at Belmont (go West). Go about 3/4 mile and turn right (Northwest) on Clark Street – the shop is on your left a few stores north of Belmont Avenue. Metered parking is $4 for every 2 hours.
CTA subway / "L" trains (get a reloadable Ventra card): Purchase a Ventra card at the vending machines in the station. Take Congress and go 2 short blocks West, walk South 1 ½ blocks to the Red Line subway station at Harrison and Polk (0 East/530 South). Take the Red Line North (towards the Howard stop). Get off at Belmont – when you get to street level, there is a stoplight right there – walk away from it (walk due East towards the Lake). Go to the first light (Clark St), turn Left, The shop is a 1/2 block down.
GENERAL INFO: Even though the event is Saturday, you are more than welcome to visit Blue Havana anytime during IML. The hours are Mon-Thurs 12pm-9pm, Fri & Sat 12pm-12am and Sunday 11am-7pm.
This event is not advertised through IML, so invite your friends to come by sharing this event!
Our market is your chance to pick up some great bargains, make some money and help support BLUF Chicago in the process.The market has a variety of items to choose from; some previously worn, nearly new and never before used items – including leather jackets, pants, chaps, bar vests and boots. Also accessories like wristbands, belts, caps and ties. It's also the event to come to if you have gear you want to sell. We charge a modest commission fee and do all the set up and selling. For details and to register your items for sale:
https://blufchicago.com/events-2/market/
We are also having a silent auction with a variety of items and gift certificates from local and international merchants you may be shopping at already. Items are still coming in so be sure to check the Facebook event page and our website for updates.
BLUF Chicago welcomes members of the Breeches and Leather Uniform Fan Club from around the world with a cocktail reception bringing together men into full leather uniforms. This is a BLUF Dress Code Enforced Event, so please wear your finest Leathers and Uniforms. Oxford room- Congress Plaza Hotel
Other Events:
Check back for new events.
BLUFChicago at Touché: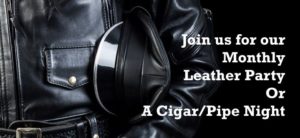 Monthly BLUF Leather Party
on GEAR Night
Third Saturday of every month
10:00pm – 1:00 am
Touché
6412 N. Clark St., Chicago IL
We'll be meeting at Touché in the dresscode enforced club room for our monthly BLUF party on GEAR night, so make sure you have your leather uniform, fabric uniform, or other Levi/Leather gear on. A bootblack is on duty to help you get that high shine and look your best.
We look forward to seeing you.
Check back soon – new dates to be added
Need leather?
Check out our retailers in our shop tab they can help you get the right items and fit.