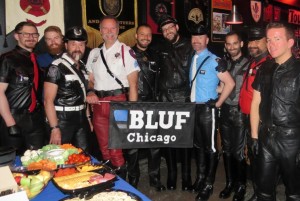 The mission of BLUFChicago:
To provide opportunities for men interested in leather uniforms to meet and socialize through activities that support the community, promote our interest in leather, and contribute to the history of the leather/fetish lifestyle.
What is BLUFChicago:
BLUFChicago is the local social club of BLUF.com an internet leather/fetish community of men who enjoy wearing full leather uniforms similar to those seen in the art work of Tom of Finland and Etienne. We create opportunities for leather enthusiast to connect in person.
BLUFChicago was relaunched in 2013 with lead organizer Michael G. and co-organizer Dr. Lorenzo F., a volunteer planning team and a group of men dedicated to keeping leather uniform fetish a regular visible and active part of the Chicago leather community.
All event graphics, web site, social media and events are organized and managed by volunteers who donate their time and talents.
What BLUFChicago does:
BLUFChicago host monthly uniform parties bringing together both BLUF members and non member uniform enthusiast in person. These events are held on Gear Night (3rd Saturday each month) at Touché and other venues throughout Chicago and surrounding area.
In addition to the monthly events BLUFChicago host, the quarterly gear nights around Chicago and special cigar and pipe parties throughout the year. We also support gear nights and other fundraisers hosted by other clubs and venues around the city.
BLUFChicago reaches actively out to and participates in our larger gay/bi/trans/queer+ community adding a bit of full leather/fetish while assisting in or attending non leather events.
We raise funds for community causes like Vital Bridges Food Pantry, The Broadway Youth Center,The legacy Project and assist in bringing awareness of important health issues to all members of our community.
During International Mr. Leather (IML) BLUFChicago is proud to co-sponsor and host several events over the weekend Including the annual cigar/pipe party at Blue Havana Cigar and our flagship BLUF reception.
What is BLUF:
BLUF.com started as an internet club in 1997 Montreal. Today based in London there are over 3,000 members worldwide with regular events organized by local clubs throughout the United States, Canada, Mexico, Brazil, Argentina and Europe.